Bachelor & Master Programmes in Hospitality, International Tourism and Event Management
Bachelor Programmes
The school of Hospitality and Tourism offers a variety of courses at the bachelor level and the master level. All programmes are offered in English and open to International, European and Dutch students. Programmes combine theory and practice and are taught by practitioners and academics. The school offers two bachelors degrees and three masters programmes: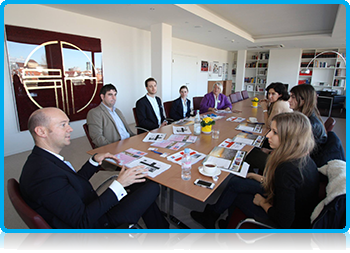 IBA Bachelor Hospitality Management - a Double Degree Programme - 3 year joint degree with the University of Brighton - Dutch and UK Degree!
EURO BA - a Bachelors of Arts in International Hospitality Management offers the chance to study in 4 different countries - the Netherlands, UK, Germany and France over a period of three years, and, gain a dual degree from the University of Brighton. Students will graduate with a University of Brighton BA in International Hospitality Management and a Wittenborg University IBA Bachelor of International hospitality.
Master Programmes
The Master of Science programmes are offered jointly by Wittenborg University and the University of Brighton. Students receive a Master of Science (MSc) from the University of Brighton and a Post-Graduate Diploma (PGdip) from Wittenborg University.
The Master programme looks at current international developments giving its graduates the tools, knowledge and understanding to manage in their chosen speciality. The programme combines academic research with the practical applied science; looking at the hospitality industry from both a direct industry related viewpoint as well as a society and economics perspective.
Master of Science in International Hospitality Management
Master of Science in International Event Management
Master of Science in International Tourism Management